Nigeria is currently home to about 17.5 million orphans and vulnerable children "OVC' (FMWA, 2008), of which 7.3 million were orphans from several sources including AIDS. Aside this, unemployment and poverty rates remain alarmingly high with untold effect on the most vulnerable population. Thus, in mitigating this impact, ARFH is implementing the USAID supported Local Partners for Orphans and Vulnerable Children in Nigeria (LOPIN), a five years project with the aim of mitigating the impact of HIV/AIDS on children and their household through a multi-sectoral approach across different LGAs in the three implementing States- Lagos, Rivers and Akwa Ibom.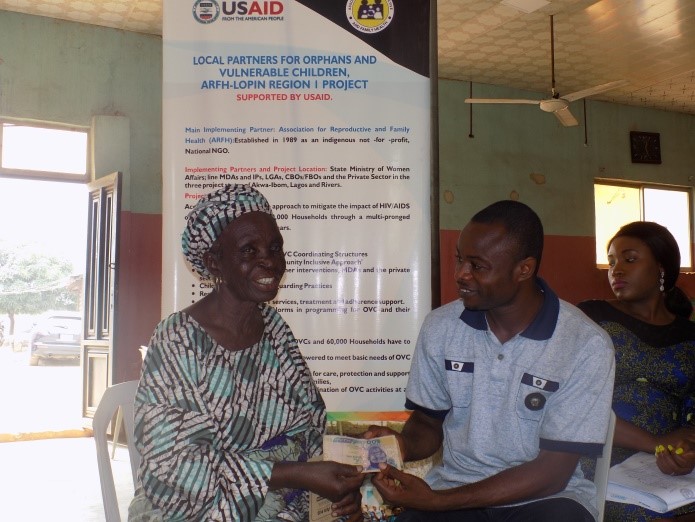 The ARFH-LOPIN 1 Conditional Cash Transfer (CCT) is a form of humanitarian response, designed to specifically address the basic needs and /or to protect, strengthen or restore livelihoods of the 'Most Vulnerable Households' enrolled on the Project. It helps cushion the effect of destitution, provide consumption support and incentivize school enrolment/retention while encouraging savings and health seeking behavior through uptake of health care. This is however structured to facilitate Care plan achievements, in line with the graduation benchmarks of Stable, Schooled, Safe and Healthy (SSSH).
The Conditional Cash Transfer (CCT) of N5, 000 each month for a period of six months was given to 712 eligible caregivers mainly women across 15 project implementing LGAs in Lagos (5), Akwa Ibom (6) and Rivers State (4). Out of a total of 712 most vulnerable caregivers who received the fund, 250 were from Lagos, 294 Akwa Ibom and 168 from Rivers state.
"I want to thank USAID and ARFH for this great program. This money they have given to me, I will use it to support my family with food and help my children through school in buying books, pencils," Mrs Johnson, a beneficiary.
Giving cash directly to women have proven to be an effective and great strategy in empowering and meeting the urgent needs of most vulnerable households. It is also a viable means of reducing inequality, ensuring income redistribution while assisting households to breakout of the vicious cycle of intergenerational poverty. When women earn more, they spend more on their families including their children most especially in accessing basic services as health, education, nutrition among others. Stakeholders must work to sustain efforts as well as strengthen systems and structures at Community, LGAs and State towards providing responsive care, protection and support services to vulnerable households and their families in Nigeria.