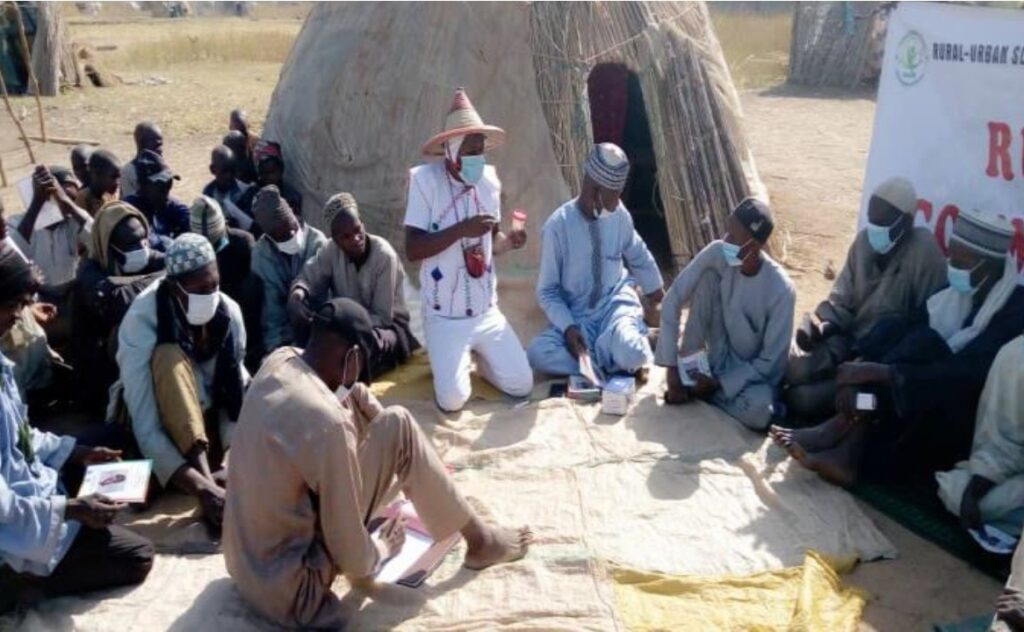 About the Project
ARFH is currently implementing the Community TB component of the GF- Funded Tuberculosis grant Nigeria in collaboration with the National Tuberculosis and Leprosy Control Programme (NTBLCP), the Principal Recipient of the grant, and an institution mandated to coordinate TB and Leprosy control activities in all States in Nigeria in order to significantly reduce the public burden of the two diseases. This grant has continued this Jan, 2021 to end Dec, 2023.
Project Goal
To ensure prompt access to high quality, patient-centred TB diagnosis (DSTB and DRTB), treatment, and follow-up services in the community, thus contributing to improved treatment outcomes towards reducing TB transmission in Nigeria.
Project Aim
The Community TB Project aims to rapidly increase TB case finding using existing community networks to identify and screen presumptive TB cases and/or persons with cough of at least two weeks' duration in ten States of Nigeria: namely, Kano, Osun, Oyo, Kaduna, Katsina, Anambra, Abia, Sokoto, Rivers, and FCT.  ARFH also implemented community programmatic management of drug resistant TB in the 35 States plus FCT. ARFH Active TB case Finding (ACF) in the 10 states contributed to 45% of the total TB case notification in those states.
The Active Case Search for the 2021 -2023  new grant will extend to Nasarawa, Kogi, and Delta states. Lagos is the only State in Nigeria where ARFH is not implementing Community TB Activities.
Project Objectives are:
To ensure that communities have accurate knowledge of TB through community level mobilization, sensitization, and demand creation for TB/HIV services through engaged CBO (SSRs) and CTWs.
To increase the identification of all forms of TB cases through house-to-house search, contact tracing, sputum collection, and transportation and improve access to quality TB/HIV services
To strengthen the mechanism for community linkages and coordination by collaborating with relevant stakeholders in the LGA and community with the aim of promoting visibility, ownership, and sustainability of the Global Fund supported TB program.
To ensure prompt access to high quality, patient-centered DR-TB diagnosis, treatment, and follow-up services thus contributing to improved treatment outcomes and reduction in DR-TB transmission in Nigeria.
Key Strategies
Advocacy, community mobilization & sensitization
Innovative Active Case Finding activities in the community
Advocacy, community mobilization
Institutional and human resource capacity building, planning, and leadership development of the Community Based Organizations(CBOs) and other community actors
Community management of DRTB patients
Strengthen capacity for management of DRTB in the community
Referrals and linkage strengthening
Programme monitoring including programme reviews and operational research activities
Strengthening of infection control practices.
For additional information about the Community TB Project, contact:
Dr Queen Ogbuji
TB Project Coordinator
Trade and Convention Centre, The Abuja Chamber of Commerce and Industry Complex, KM8, Umaru Musa Yar'Adua Express Way, Airport Road, Beside Shoprite, Lugbe, Abuja 
Mobile: +234-803-430-3042
Email: ogbuji.q@arfh-ng.org
Website:  www.arfh-ng.org