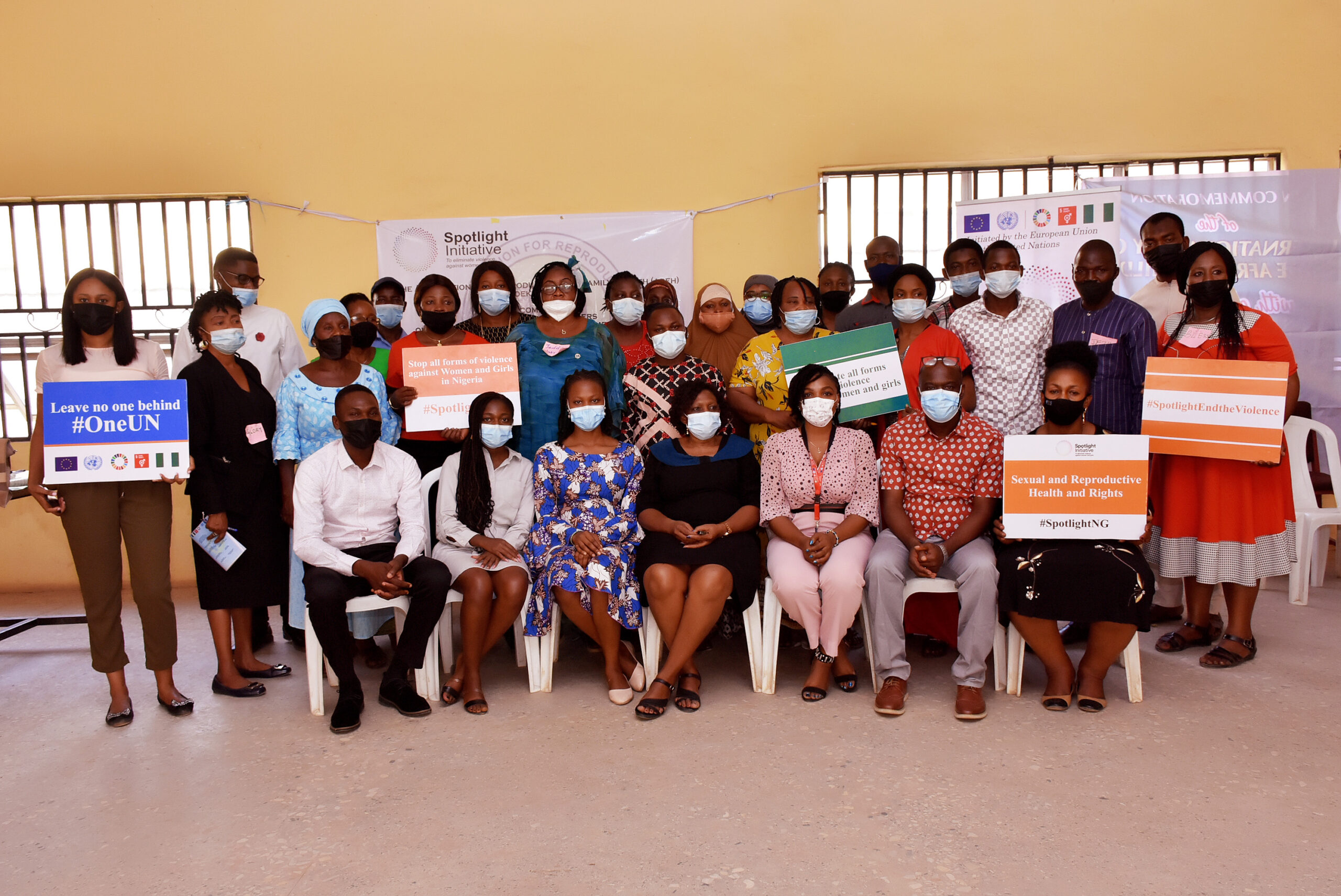 Association for Reproductive and Family Health (ARFH) was a recipient of the Spotlight Initiative grant under the United Nation Education, Scientific and Cultural Organisation (UNESCO). We implemented the Spotlight's activity 4.1.12. Though the Spotlight Initiative is in six states, Activity 4.1.12 was only conducted in four states namely Adamawa, Ebonyi, Sokoto, and the FCT. ARFH worked with her partner organisations in the four states. The organisations are TOEKAN Foundation in the FCT; Safe Motherhood Ladies Association in Abakaliki; Life Helpers Initiative in Sokoto and Nancy Amadu Foundation Yola. The project was also used to strengthen the capacity of these organisations in Sexual and Gender Based Violent grant design and management.
This intervention that commenced in August 2020 – November 2021 was implemented in 65 schools across the three plus one states. Comparation between the baseline and end-line survey showed an increase in knowledge and positive change in behaviour & attitude among the targeted audience. The capacity of different stakeholders was built to support the efforts of elimination of gender-based violence in the various communities that the schools were located. ARFH assessed and strengthened the capacity of 25 Health facilities to reach students with factual information and take referral from the schools.
The table below shows the grant's achievement as against the targets.
| | | | |
| --- | --- | --- | --- |
| EXPECTED RESULTS | ACHIEVEMENT | RATING | COMMENTS/REMARKS |
| 384 teachers trained/refreshed on FLHE | 383 | Achieved | A teacher in the FCT dropped due to ill health during the training therefore target is short of one |
| 1,200 Volunteer school boys and girls trained as peer educators | 1,380 | Exceeded | More students were trained as peer educators because of their interest (893 females and 487 males). |
| 2,400 primary school pupils reached with information by teachers | 3,726 | Exceeded | Primary school pupils reached with information on how to identify abuse and how to report it. |
| 4,000 secondary school students reached with information on SGBV and referral by teachers and service providers | 13,969 | Exceeded | Male= 4102 and 9,867 female students reached by health service providers and teachers |
| 160 clients among school children linked to facility for services on GBV | 126 | Good | 98 females and 28 males referred for services on SGBV |
| 400 young Nigerian women and men (graduates) empowered on gender equality, SBV, SRHR and dangers of HP | 929 | Exceeded | 929 (Male=324; female=605) corps members were empowered with information on SGBV while 96 were trained as peer influencers on gender equality, sexual based violence, sexual and reproductive health and rights issues. |
| 12,000 copies of Spotlight posters distributed across the six Spotlight States | 12,000 | Achieved | All posters distributed across the six states based on approved distribution plan. |