ARFH was identified as the indigenous NGO to serve as the Principal Recipient to manage Global Fund TB grant in Nigeria by the Country Coordinating Mechanism (CCM) from 2009 – 2018 due to her outstanding performance on the Global Fund Round-5 HIV/AIDS project. Implementation of the TB grant was in the 36 states plus FCT and ARFH worked collaboratively with the National Tuberculosis and Leprosy Control Programme (NTBLCP) and provided the necessary oversight to the 9 Sub-Recipients – NTBLCP, GLRA, DFB, TLMN, NLR (now LTR), HAF, TBN and two states sub-recipients (Kaduna and Ebonyi).
Project Goal:
To provide Nigerians with universal access to high quality, patient-centred prevention, diagnosis, and treatment services for TB, TB/HIV, and drug-resistant TB by 2020.
Project objectives:
(i) To strengthen the technical and managerial capacity of the National TB & Leprosy Control Program at all tiers to ensure achievement of implementation rate of program activities by 2010, (ii) To promote behavioural change in the community such that the adult population has a correct knowledge of TB
(iii) To improve timely detection and quality treatment of TB cases such that case detection rate increases and also increase treatment success rate of all TB cases by 2010 and
(iv)To reduce the incidence of TB among PLWHA.
The Global Fund TB/HIV grant implementation is in all the LGAs and facilities providing TB services in the 36 states including the Federal Capital Territory (FCT) while scale up of targeted interventions to increase case finding was done in 22 Priority states. Following the successes achieved by ARFH, the project was extended from January 1st to December-31st 2018 under the Global Fund New Funding Model to conduct active case finding in 5 states (Kaduna, Lagos, Kano, Oyo and Osun).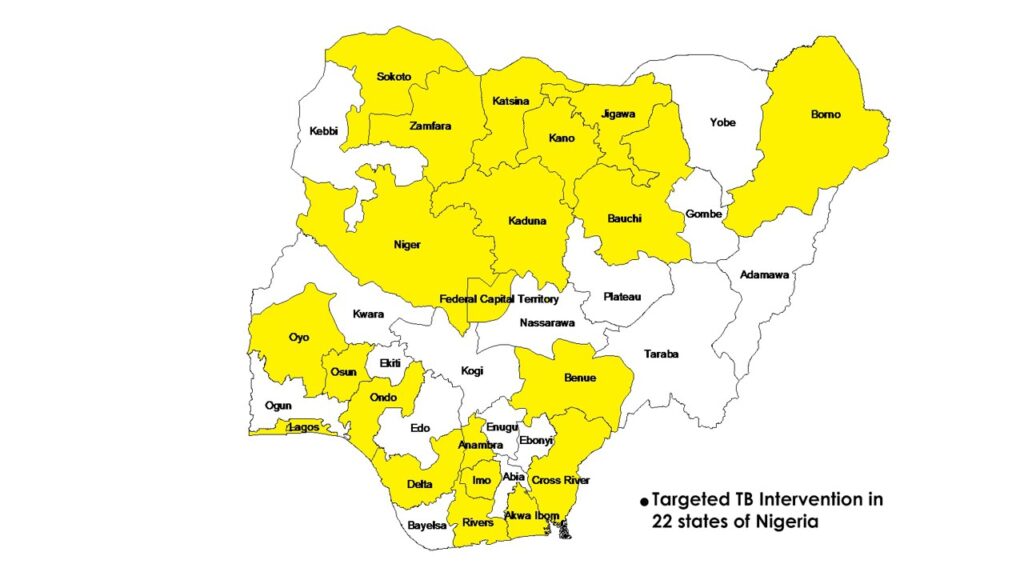 The targeted interventions in the priority states include the following: DOTS expansion, AFB microscopy expansion, Active case finding, Screening of clients in the OPDs of high burden health facilities, Intensified case-finding among children, Supervision of DOTS and microscopy services, Provision of drugs and laboratory consumables and Provision of recording and reporting tools. Continuous monitoring of the grant implementation across all levels of implementation (Program, PSM Finance and M&E) was done by ARFH through oversight visits, onsite data verification, joint quality assessment with partners, review meetings and supportive supervisory visits.
During these period (2015 – 2018), Nigeria through Global Fund implemented through ARFH with support from NTBLCP and other implementers, reached more than 1million Presumptive TB cases and 402,454 TB cases (61% males and 39% females). In addition, ARFH built the technical and managerial capacity of NTBLCP to enable its transition to a National TB Principal Recipient as part of the resilience agenda and mentored about 87 Community-Based Organizations (CBOs) to implement a cost effective and sustainable community-driven model for active TB case finding.
ARFH is currently a sub-recipient to NTBLCP who is the current principal recipient on the Global Fund New TB Grant 2019 – 2020. ARFH is anchoring the community component of the grant, which involves Drug Susceptible TB (DSTB) through Active Case Finding (ACF) Strategy and Drug Resistant TB (DRTB) through Community Programme Management of Drug-Resistant TB (CPMDT). The implementation of the grant will be done in 35 States including FCT through the community structures – Community Based Organizations (CBOs), Community TB Workers (CTWs), Treatment Supporters (TS) and other relevant community stakeholders.
The core objective of the grant is to increase the identification of all forms of TB cases through Active Case Search, strengthen the mechanism for community linkages and coordination, create demand for TB service uptake, ensure prompt access to high quality, patient-centered DR-TB diagnosis, treatment, and follow-up services thus contributing to improved treatment outcomes and reduction in DR-TB transmission in Nigeria.