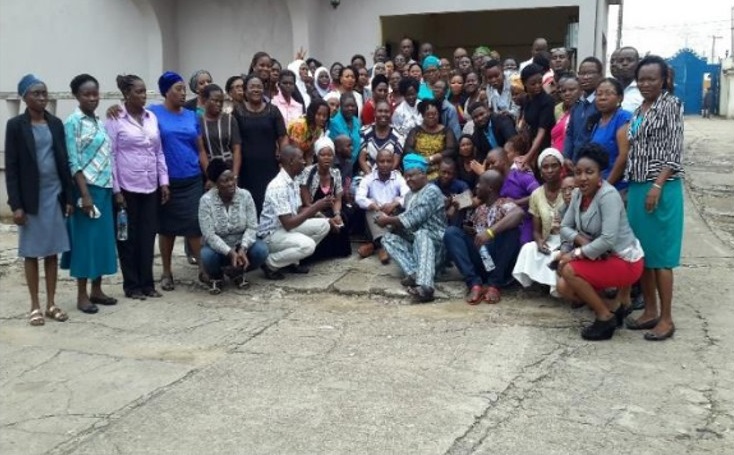 Grant Duration: 1st July 2015 – 31st December, 2017, Extension to 2018
SRs: National TB &Leprosy Control Program(NTBLCP), German Leprosy & TB ReliefAssociation(GLRA), Netherlands Leprosy Relief(NLR), The Leprosy Mission Nigeria(TLMN) Damien Foundation Belgium(DFB), Health Alive Foundation(HAF) and TBNetwork.
Goal: The overall goal of the TB program under the New Funding Model was to provide Nigerianswith universal access to high-quality, patient-centred prevention, diagnosis, and treatment services for TB, TB/HIV, and drug-resistant TB by 2020. Key Intervention areas included Case detection, diagnosis and Treatment of TB.
Objectives: To achieve an increase in the Case Notification Rate of all forms of TB from 57.3 per100,000 population in 2013 to 287 per 100,000 population in 2020
To increase treatment success rate from 86% in 2013 to 90% by 2020 among drug-susceptible patients
To enrol 100% of diagnosed DR-TB patients on appropriate treatment by 2020
Strategies:
Active TB Case Search
DOTS expansion
AFB microscopy expansion
Supervision of DOTS and microscopy services
Provision of drugs and laboratory consumables
Provision of recording and reporting tools
TB/HIV services
NFM Target Groups:
Key TB-affected populations: A number of different sub-populations were identified as key affected populations in Nigeria, based on globally recognized risk factors for TB. As specified in the NTBLCP National Strategic Plan, the TB key affected population include the PLHIV, Contacts of bacteriologically positive pulmonary TB, Urban slum dwellers, Nomads, Migrants and internally displaced people, Incarcerated population, children, people living with diabetes and Health care workers
Core activities that ARFH performed included:
Procurement of Drugs and reagents through GDF
Clearing of drugs and reagents at the ports of entry and distribution to the Zonal and state stores for onward delivery to the facilities
Monitoring and evaluation
Printing of R & R tools and IEC materials
Supportive supervision to provide technical assistance to the SRs
Review of SR's financial and programmatic quarterly reports
Prompt disbursement of funds to SRs on a quarterly basis
Coordination of activities of the SRs
Ensuring appropriate TB-HIV collaboration
Convening quarterly review meetings with SRs, partners and other stakeholders
Facilitate effective mechanism for procurement and supply chain management to maintain uninterrupted commodity supply in the program
Perform M & E functions on the project activities of SRs
Ensure that Project Objectives and targets are achieved
Support States in Advocacy and Resource mobilization
The SR were supported to provide these specific roles to states
Providing technical assistance to STBLCP, LGA and facilities to ensure effective implementation of TB activities in alignment with the NFM Program Implementation plan.
Promoting/facilitating advocacy to state and LG for sustainable political commitment.
Conduct capacity building (training) for all cadres of health workers to be involved in TB control at GF supported DOTS centers.
Conduct regular supportive supervision and monitoring of State programs to ensure improvement in service quality.
Supervise the distribution of drugs, laboratory reagents and consumables at the state level in line with the national PSM plan.
Provision of TA for effective monitoring of state review meetings
Support sputum transportation and logistics at the Local Government, State and Zonal levels.
Coordinate effective management of active case search interventions for rapid scale-up of TB case finding in among key affected populations.
Ensure timely accurate and complete reporting of all program activities in line with the NFM performance framework.
Ensure effective collaboration with relevant stakeholders in the state, LGA and community to promote visibility of Global Fund supported TB program.
Some Achievement
8,849 GHWS trained on DOT provision (Rapid DOTS expansion)
2,064 Lab staff trained to conduct Acid Fast Bacilli (AFB) test
2,856 Microscopy sites established
A total of thirty (30) project vehicles were procured and distributed to various states from 2011 – April 2016.
A total number of 2,489 microscopes was procured and distributed from 2009 till 2018
Transition from paper-based to electronic TB manager and its eventual integration with DHIS
Improved capacity for patient management, and use of program data for improving program performance
Renovation of the 37 state and 6 zonal and Federal Medical Stores
National surveys were conducted – TB Prevalence Survey -2012, Knowledge, Attitude and Practice (KAP) Survey – 2017, TB Patient Cost Survey – 2017, Evaluation of TB Radio Jingle Survey (2017)