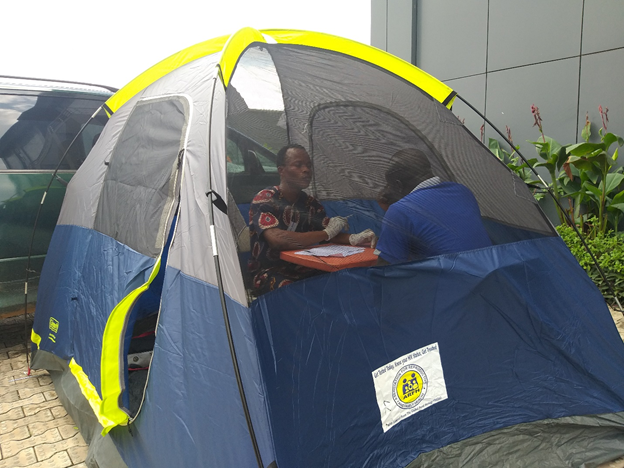 The HIV Unit of Association for Reproductive and Family Health (ARFH) implemented the Global Fund New Funding Model 2 titled Optimizing HIV Investment for Impact between 1st July, 2019 to 31st December, 2020. ARFH worked as Sub-Recipient to fhi360 to implement the project in 11 State- Abia, Bayelsa, Benue, Delta, Edo, Enugu, Imo, Niger, Ogun Oyo and Osun spread across 63 Local Government Areas and with linkage to over 90 GF supported Health Facilities. The main objectives of the grant include
To improve community response to HTS & linkage of positive clients to treatment and care
To increase access of Pregnant Women and other vulnerable groups to targeted HIV testing and treatment within the community structures
To strengthen TB/HIV linkage for HIV positive clients and presumptive TB cases
Four indicators targeting demand generation for HIV services through HIV Counselling and Testing using community mobile testing approach was the focus of the intervention. The indicators are:
Association for Reproductive and Family Health
PMTCT-1; Number of pregnant women who were tested for HIV and who received the test results (GF Supported)
PMTCT-2; Number of HIV infected pregnant women who received antiretroviral drugs to reduce the risk for mother to child transmission (GF Supported)
HTS-1; Number of people male and female who were tested for HIV and received their results during the reporting period (GF specific)
TCS-1; Number of people male and female living with HIV currently receiving antiretroviral therapy (GF specific).
Association for Reproductive and Family Health
Key highlight of the Intervention
Continuous advocacy to state partners and key stakeholders which resulted in effective partnership, creation of enabling environment and unhindered access to communities
Engagement and training of Counsellor Testers (CTs) resulting in enhanced capacity to effectively deliver all grant objectives
Mapping of new TBAs, Faith Based Delivery Homes, PMVs, unsupported health facilities, private laboratories and targeted communities for targeted testing of vulnerable individuals and pregnant women.
Adherence to WHO testing protocols- Consent, Confidentiality, Counselling, Correct Results and Connection to care which enhanced trust and confidence of community members in HIV testing protocols of ARFH
Categorization of CTs into CT-Generalist, CT-SNT and CT-PMTCT which translated to better performance on key indicators
Dedication of about 50% of the total number of CTs to PMTCT indicators
Use of community sensitization/education on basic information on COVID-19 as entry point to provide HTS to community members
Review of client enrolment details at the GF facilities to ascertain communities for targeted testing as well as index contact tracing and testing which culminated in better positive case detection and optimization of available resources
Sexual Network Testing which geometrically increased case detection with average 15% positivity yield
Provision of Escort services for all identified positive clients to GF supported facilities which enhanced achievement of above 98% linkage rate
Weekly data validation by State Programme Team which improved the quality of data generated on the intervention and timely data reporting.