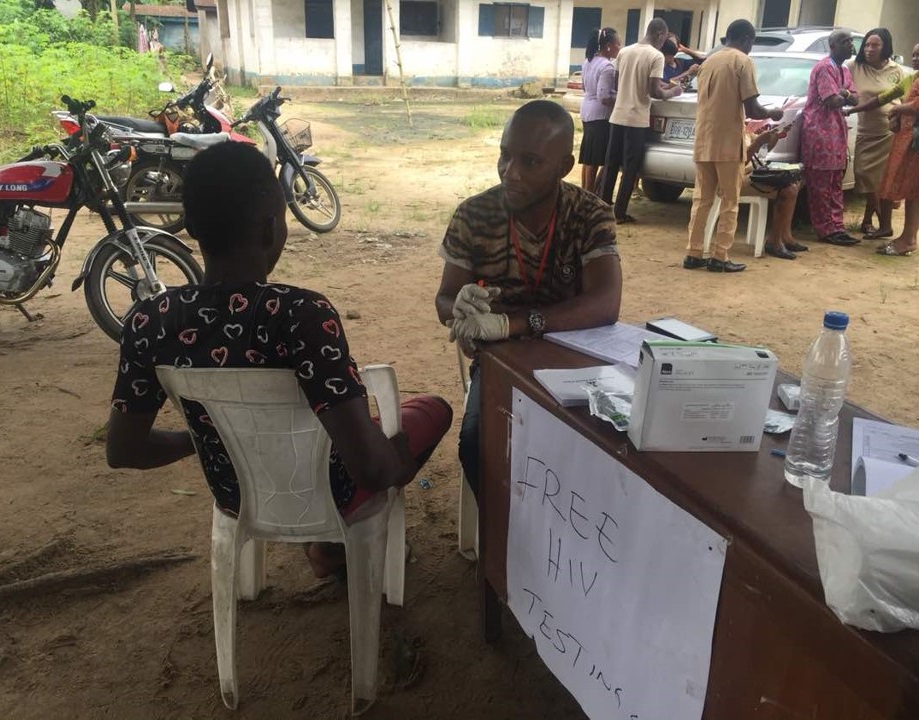 The Association for Reproductive and Family Health (ARFH) implemented the Community System Strengthening component of the Global Fund New Funding Model Grant in Nigeria as a Principal Recipient from 1st January, 2013 to 31st December, 2017. The grant was designed to strengthen the institution and grant management capacity of the three national networks of civil society on AIDS, TB and Malaria and their affiliate members in twelve selected states (Akwa-Ibom, Benue, Cross-Rivers, Imo, Nasarawa, Oyo, Kaduna, Kano, Sokoto, Taraba Rivers, and FCT). The national CSOs were therefore selected as sub-recipients (SR) – Civil Society in Malaria Control, Immunisation and Nutrition in Nigeria (ACOMIN), Network of People Living with HIV/AIDS in Nigeria (NEPWHAN) and Civil Society for the Eradication of Tuberculosis in Nigeria (TBN). The SRs with approval from ARFH selected 106 Community Based Organizations (one per project LGA) to provide health literacy and generate demand for HIV, AIDS, Tuberculosis and Malaria services at Global Fund supported health facilities.
In 2017, constant supportive supervision and mentorship provided by ARFH to the SRs in the areas of grant management, mentorship, accountability, financial management, filing and documentation led to improvement in the performance in the capacity of the 106 CBOs that work as SSR. This was achieved through regular monitoring to the CBOs by trained State Programme Officers who are staff of the SRs and adherence to the various guidelines and technical documents developed by ARFH to guide the performances of the CBOs in delivering quality services at the grassroots. At the end of that year, ARFH through the support of CBOs provided HIV, Counselling and Testing (HCT) services for a total of 182,002 persons.
In the year 2018, ARFH was selected as one of the sub recipients of FHI360 to conduct community testing under the Global Fund HIV Investing Impact against TB and HIV Project in five priority states of Akwa Ibom, Imo, Kaduna, Oyo and Rivers States. The project was commissioned to contribute to the national goal of expanding HIV/AIDS prevention, treatment, care and support in Nigeria and to reduce HIV incidence and its associated morbidity and mortality.
Project Objectives
To improve community response to HTS & linkage of positive clients to treatment and care
To increase access of Pregnant Women and other vulnerable groups to targeted HIV testing and treatment within the community structures
To strengthen TB/HIV linkage for HIV positive clients and presumptive TB cases
Some of the key strategies implemented under this phase of the project include – Community Mobilization and Testing for Pregnant Women and General Population. ARFH through the support of key state partners – States HIV/STIs Control Programme (SASCP), Ministries of Health, States Agencies for the Control of AIDS (SACA) and her states Counsellor Testers ( CT), generating demand for HCT among pregnant women and the general population working with state teams and Counsellor Testers to sensitize communities on HIV and providing door to door HIV testing services. To ensure that all persons within the community are reached with HIV testing services, we work closely with various community structures such as TBAs and Faith Based Homes to access Pregnant Women. This demand generation activities is supported with the enrolment of positive clients for ART in Global Fund facilities. Two major indicators of ARFH specifically refers to the enrolment of positive clients which make it critical for the organization and remains the veritable means of contributing to the first two 90s of the in the 90-90-90 model of UNAID – which stipulates that 90% of all persons living with AIDS know their status, through testing and are linked to ART services by 2020. As part of our strategies to connect pregnant women to PMTCT – Prevention of Mother-to-Child Transmission interventions, we support the work of Traditional Birth Attendants by providing them with medical consumables through the support of the Principal Recipient – FHI360.
At the end of the year 2018, ARFH provided HCT services for 217,123 persons from the General Population, who were counselled, tested and received results for HIV, surpassing the donor's target of 201,609 set for the semester, at about 108%. ARFH component on the grant was extended to June 2019 where she was able to meet all targets, attaining an A1 rating and award for successful implementation from the PR, FHI360. This project has now been further extended by Global Fund to reach ten states starting from July 2018.