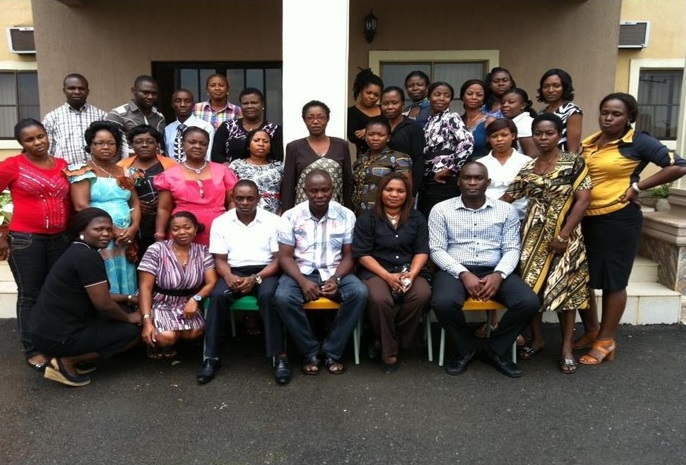 Duration: Jan 1, 2013 – 30th June 2015.
SRs: National TB &Leprosy Control Program(NTBLCP), German Leprosy & TB Relief Associ-ation(GLRA), Netherlands Leprosy Relief(NLR), The Leprosy Mission Nigeria(TLMN) Damien Foundation Belgium(DFB), Health Alive Foundation(HAF).
Project Goal:
To reduce significantly the burden, socio-economic impact, and transmission of TB in Nigeria
Project Objectives:
To promote behavioral change about TB in the community
To pursue High Quality DOTS expansion and enhancement
To scale-up TB/HIV collaborative activities and strengthen TB/HIV Integration
To Strengthen MDR-TB Prevention and Control
To strengthen the technical and managerial capacity of the National Tuberculosis and Leprosy Control program
There was need for ARFH to appraise the TB program's progress and identify challenges that could hinder achieving the national targets for TB program. The under-listed were the identified challenges and strategies employed to address them
Program-Related Challenges
– Poor government commitment at all levels particularly as evident in the non-release of counter-part funds (State and LGA financial contributions yet to improve)
Weak supervisory and program management skills at the LGA levels (TBLS)
Absence of management teams at the State level, most State TBL control programs operate a one-man show and where teams are available, they were not functional/active
Shortage of HIV rapid test kits for co-infected TB patients.
Late reporting by the State programs
Inadequate CTBC data collection & collation at all levels
Poor utilization of TB suspects registers, INH registers and other new R & R tools in most DOTS centres
Increasing number of damaged microscopes in microscopy centres
Civil disturbances in many northern states
Inadequate coverage of states for supervision of state control programs. The budget only allowed for an average of two supervisory visits per SR to state per quarter
High attrition rate of trained/experienced staff at the DOTS facilities hence the need for re-training which was not an activity supported in the budget
Stock out of paediatrics anti-TB medicines (a critical challenge)
The distance that suspects travel to the DOT Centres for test and treatment is still a challenge
Lack of IEC materials for community mobilization activities
General low IPT uptake in the program
Strategies Employed for Program-Related Issues
-ARFH, NTBLCP, ILEP and partners conducted advocacy visits to Government at all levels States to facilitate support for the program. The capacity of CBOs engaged on the program were built to be involved in advocacy and resource mobilization at the local government and community levels. Also, the Stop TB partnership commenced high level and strategic advocacy to the government and private sector using a robust and costed work plan as a shopping list for soliciting support.
-ARFH supported the ILEP partners for continuous conduct of advocacy to the State Ministry of Health to activate state teams in the implementation of the TB program by employing more staff in each of the state TBL control offices
-The ILEP partners were supported to conduct update workshop for TBLSs to strengthen their supervisory and program management skills. Also, knowledge and skill gaps were improved through on-site mentoring during oversight supervisory visits to State by both the ILEP partners and the National Program.
-ARFH provided to the SRs guidelines for reporting each of the GF TB activities and continued to provide technical support during supervisory visits and via e-mails.
-State TBL Managers/TBLS were encouraged to drive the CTBC program in their states and to report the data appropriately. Review meetings for CVs were held at the last week of the quarter before the conduct of the state review meetings, this was to ensure that the CTBC data is reported at the state review meetings for onward collation at the zonal review meetings. CTBC issues were also discussed at the annual review meeting for control officers.
-ILEP partners supported repair of damaged microscopes.
-The PR (ARFH)recommended that rotational visits should be designed to ensure adequate cover-age of supervisions at all level. Adequate tracking of all supervisions conducted should also be done to ensure adequate coverage over the program time.
-On-site mentoring during supervisory visits were employed to build the capacities of DOTS staff that have not been trained due to the high rate of attrition of staff caused by the frequent transfer of civil servants in the country.
-The STBLCOs were liaising with IPs in their states to improve IPT uptake.
PSM-Related Challenges:
Low capacity at the LGA and facility level on logistics management and information/data collection
Poor funding for logistics supervision and mentoring on the TB program
Lack of state contribution especially towards supporting human resources on logistics management
Poor maintenance of storage facilities at the state and facility levels i.e. patient kits were usually stored on the floor because cupboard were not available in most of the facilities
Staff attrition: – The supportive supervision revealed that in some facilities trained workers on LMIS data entry are either transferred or retired, untrained DOTS provider were struggling with LMIS data entry
Strategies Employed for PSM-Related Issue
Capacity building was planned for personnel at the LGA and facility level on LMIS through direct facility based training.
The program advocated for increased funding support for supervision and mentoring activities on logistics management
Activities:
Improving case detection practices through DOTS
Strengthening the existing services and establishing new peripheral DOTS centres
Training of public health workers in DOTS
Training of private sector health workers in DOTS
Training of lab technicians in case detection;
Training of public health staff in program management;
Training of community volunteers in knowledge of cause, transmission and curability of TB;
Involvement of community volunteers and treatment supporters in the management of TB patients
Monitor and manage development of Multi Drug Resistant TB; and
Strengthen supervision and M&E activities;
Enhancing the technical and managerial capacity of the NTBLCP and other implementing partners
Strengthen partnerships to advocate for increased government commitment and ownership of the programme