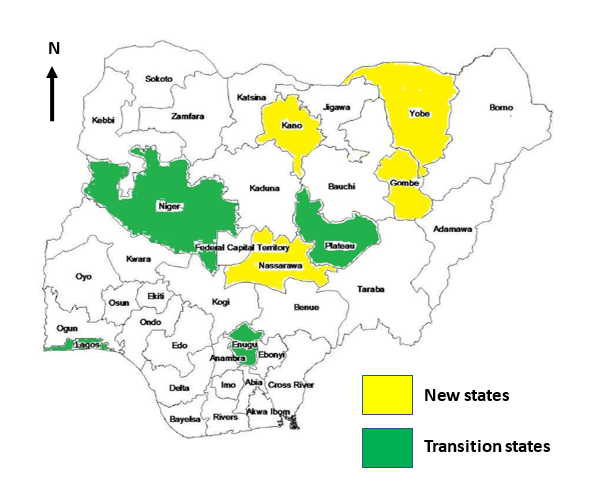 CODSAiN PROJECT GOAL
Community-Oriented DMPA-SC Self Injection Acceleration in Nigeria (CODSAiN) is a program aimed at increasing access to family planning services in Nigeria by empowering women to self-inject DMPA-SC (Depo-Medroxyprogesterone Acetate-Subcutaneous) contraceptives in the comfort of their homes.
DMPA-SC is a highly effective, long-acting contraceptive that is administered through a subcutaneous injection. With CODSAiN, trained community health workers (CHWs) provide women with the necessary information and training to self-inject the contraceptive at home. The program also provides support for women who have questions or concerns about the self-injection process.
CODSAiN was developed as a response to the low uptake of family planning services in Nigeria, which is partly attributed to the limited availability of trained health workers and the cultural barriers to accessing family planning services. By empowering women to self-inject DMPA-SC, CODSAiN aims to increase access to family planning services, especially in rural, hard-to-reach and underserved areas where there are few health facilities and trained health workers.
The program has shown promising results in increasing the uptake of family planning services and reducing unintended pregnancies in Nigeria. It has also been recognized as a best practice for increasing access to family planning services in resource-limited settings.
Project Duration
15th November 2022 – 14th November 2026
BACKGROUND
The Federal Ministry of Health developed a Strategic Plan with key stakeholders in 2018 to implement DMPA-SC self-injection in 36 states and the Federal Capital Territory by 2021 in a bid to increase the contraceptive prevalence rate by 3% annually and provide more self-injection options for women.

The implementation of the RASuDiN Project in 10 states (Anambra, Delta, Enugu, Kwara, Lagos, Niger, Ogun, Oyo, Plateau and Rivers) assessed the feasibility of this approach, documented best practices, and potentially became a game-changer for family planning in Nigeria. The CODSAiN and S-CAP joint-launch program was, thus, a celebration of the success of the RASuDiN Project because a lot has changed in the FP awareness and uptake of contraceptive access beyond the traditional facilities service delivery channel.
KEY PROJECT ACTIVITIES
• Continuous federal and states stakeholders' engagement to secure commitments and buy-in
• Collaboration with other implementing partners
• Landscape assessment; facility and community audit
• Training of facility and community health workers (CORPs/CHIPS) for FP service delivery across all Primary Healthcare Centres in all the LGAs of the project states
• State-led demand generation activities through the state and LGA Health Promotion Units. CHIPS/CORPs will work closely with the Health Promotion Officers to drive demand for family planning
• Community-level DMPA-SC and SI service provision by CHIPS/CORPs, including in Internally Displaced Persons' camps
• Coordination and supportive supervision through CBOs, state officials (FP Coordinators, Health Educators), and ARFH staff
• Routine monitoring, evidence-based research and data reporting and management
PRIORITY POPULATION
Women of reproductive age
Young married females
Men (for consent and male involvement)
EXPECTED KEY OUTCOMES
The following are the expected outcomes of the CODSAiN Project:
Improved Health Outcomes: The CODSAiN-SC Self inject as a form of family planning services can improve health outcomes by reducing maternal and child mortality rates. State governments partnering in the CODSAiN Project are therefore encouraged to take ownership of family planning services to ensure that these services are accessible and available to all women in their localities.
Reduce Poverty: Family planning services can help to reduce poverty by enabling women to have fewer children, spacing births, and achieving their desired family size. This can have positive economic impacts by allowing women to participate in the workforce, pursue education, and improve their economic well-being.
Empower Women: The CODSAiN Project is expected to empower women by providing them with greater control over their reproductive health and choices. By taking ownership of family planning services, therefore, participating state governments can promote gender equality and women's empowerment in their various states.
Address Demographic Challenges: Nigeria is the most populous country in Africa, and its population is projected to double by 2050, according to Statista, one of the world's leading market and consumer data providers. This growth can present demographic challenges, including increased demand for healthcare services, education, and employment.
Family planning services can help to address these challenges by reducing population growth rates.
Achieve Sustainable Development Goals: Family planning services are a critical component of the Sustainable Development Goals (SDGs), particularly SDG 3 (Good Health and Well-Being), SDG 5 (Gender Equality), and SDG 8 (Decent Work and Economic Growth). By taking ownership of family planning services, participating state governments can contribute to achieving these global goals.
For more information about CODSAiN Project, please contact:
Project Manager, Dr. Uba Sabo
Email: sabo.u@arfh-ng.org