February 4th is a day set aside by organizations and partners around the world to raise awareness about cancer and work towards making it a global health priority.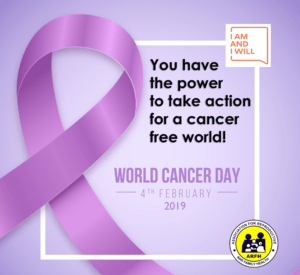 Over the years, cancer has grown to become the second leading cause of death worldwide with an estimated number of 9.6million people expected to die every year. Cancer is fast becoming a major health concern in Nigeria with about 80,000 deaths recorded in Nigeria according to WHO. Recent reports by WHO have also indicated an expected 75% rise in death rates of Nigerians to cancer by 2030 without commensurate support from government and relevant bodies. Global partners are calling for a greater commitment and accelerated action to reduce the global cancer burden and integration of cancer into the world health and development agenda.
This year, the Union for International Cancer Control (UICC), which organizes World Cancer Day, is launching a new 3-year impact campaign with the theme: "I Am and I Will." which calls for a personal commitment to help reduce the global burden of cancer.
According to UICC, one third of all cancers are preventable giving every reason to champion healthy choices and prevention strategies for all, so that everyone can have the best chance to prevent and reduce their risk of cancer.
Association for Reproductive and Family Health (ARFH) commemorates with global partners to spread awareness about cancer. As one of the core indigenous development partner driving family planning interventions in Nigeria, our family health interventions have spanned to include initiatives that mitigates the risk of cancer for mothers and other women of reproductive ages. We implore every individual to make healthy lifestyle choices and TAKE ACTION in the support for the cancer movement.