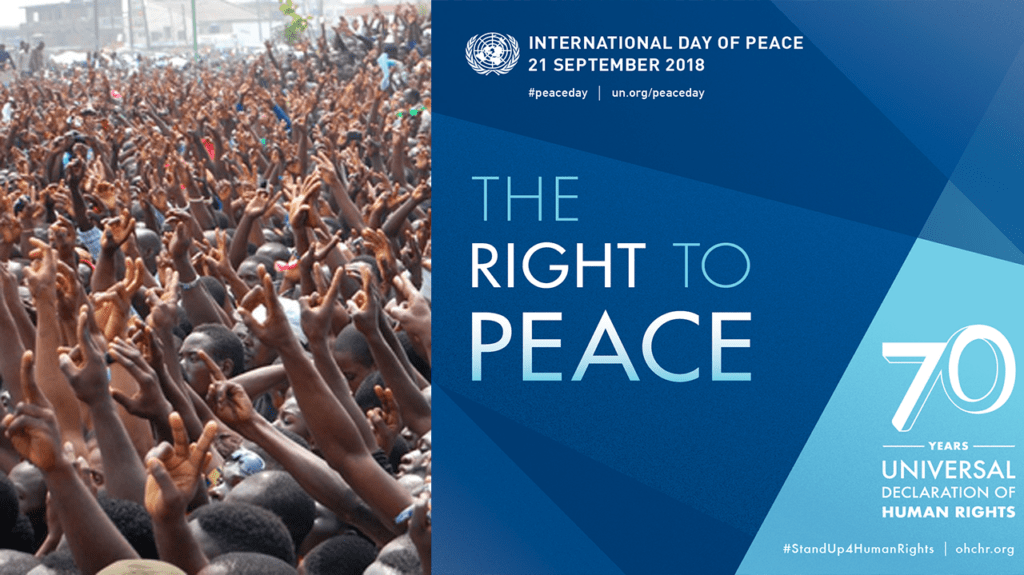 The International Day of Peace is commemorated every year on September 21. It is a UN observance day devoted to strengthening the ideals of peace within and among all nations and peoples in respect of the Sustainable Development Goal (SDG) 16 – Peace, Justice and Strong Institutions.
SDG 16 calls for promoting peaceful and inclusive societies for sustainable development, providing access to justice for all and building effective, accountable and inclusive institutions at all levels. As stated by the UN, "A peaceful society is one where there is justice and equality for everyone. Peace will enable a sustainable environment to take shape and a sustainable environment will help promote peace."
This year's theme, "The Right to Peace – The Universal Declaration of Human Rights at 70" celebrates the 70th anniversary of the Universal Declaration of Human Rights.
"It is time all nations and all people live up to the words of the Universal Declaration of Human Rights, which recognizes the inherent dignity and equal and inalienable rights of all members of the human race. This year marks the 70th anniversary of that landmark document," says United Nations Secretary-General, António Guterres.
There is a stipulation in the UN Universal Declaration which states that "Everyone has the right to life, liberty and security of person." This according to the UN builds the foundation of freedom, justice and peace in the world, yet, the Universal Declaration does not include a separate article on "Right to Peace," He added.
Association for Reproductive and Family Health (ARFH) joins global partners to preach the message of peace. There is no greater way to ensuring human dignity and social wellbeing by promoting peace and equality in all aspect of life. We cannot underestimate the devastating effects of conflict on human life, which most times lead to overwhelming humanitarian crisis that affect vulnerable populations – women, children and adolescents. We must seek to make conscious effort to promote peace at all times. You can start by preventing injustice in your community by adopting a non-violent approach to problem solving and conflicts.
Join the International Day of Peace campaign online with the hashtags #PeaceDay #IPD2018
Answer the question, what does "The Right to Peace" mean to you?