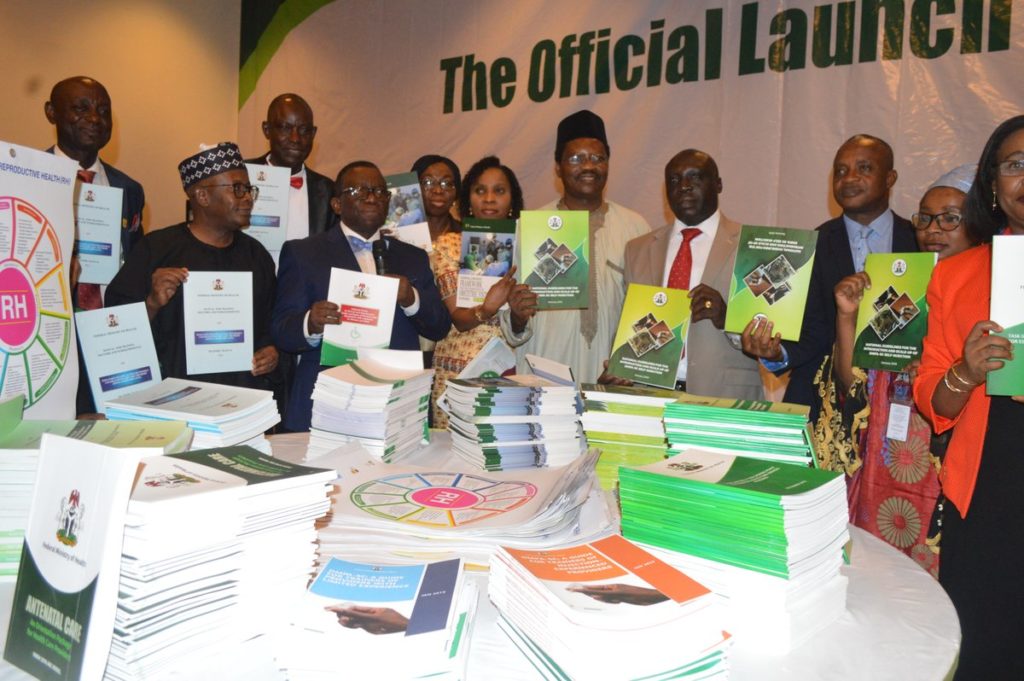 We were at the official launch & dissemination of Reproductive Health and Maternal Health policy documents by the Hon. Minister of Health, Prof. Isaac Adewole held in Abuja, on Tuesday, April 23, 2019.
The strategic documents and policies were launched to improve maternal health outcomes of women and girls in Nigeria in line with the SDGs efforts for eliminating preventable maternal deaths by 2030. The Federal Ministry of Health reiterate their commitment to identifying and preventing every prevalent cause of maternal deaths in Nigeria.
To this end, the under listed documents developed to facilitate the delivery of Sexual and Reproductive Health and Rights have been approved for launching and dissemination to stakeholders as well as end users by the Honourable Minister of Health:
Task Shifting Task Sharing Policy December 2018.
Task Shifting Task Sharing Standard of Practice. December 2018.
Manual For Training Doctors and Nurses/ Midwives on Post-Partum Long Acting Reversible Contraceptive (PP LARC) Methods.
Manual for Training Community Health Extension Workers on Post-Partum Long-Acting Reversible Contraceptive (FP LARC) Methods.
Reproductive Health (RH) Wheel
National Policy on the Sexual and Reproductive Health and Rights of Persons with Disabilities with emphasis on Women and Girls. June 2018
Antenatal Care: An Orientation Package for Health Care Providers. FMOH 2018 ANC Model.
National Strategic Framework for the Elimination of Obstetric Fistula in Nigeria 2019 – 2023
National Guidelines for the Introduction And Scale-Up of DMPA-SC Self-Injection. January 2019
DMPA-SC: A Guide for Trainers of Injection-Experienced Providers
DMPA-SC: A Guide for Trainers of Providers with Limited Experience. January 2019.
In his address, Prof. Isaac Adewole stated that the documents would provide policy direction for all stakeholders in the reproductive, maternal, newborn, child and adolescent health service delivery space.
"'Last year, we updated our Family Planning goal at the Family Planning summit in London. We all know that Family Planning is a low hanging fruit."
"Our goal is 27% mCPR by 2020. While we are proud of what we have achieved, we are not unmindful of the work that we have to do to achieve this goal."
"We still have a lot of ground to cover concerning adolescents and women health in Nigeria. Adolescents and women constitutes a significant portion of the population of Nigeria."'We believe that everyone should have an equal shot at equitable healthcare in Nigeria."To further scale up our health interventions, we are here to officially launch these reproductive health policy documents."
The Minister stated that the documents will be made available on the website of the Federal Ministry of Health and ensure the implementation of the policies meant to support efficient health care service delivery and the uptake of quality and affordable sexual and reproductive health services in Nigeria.