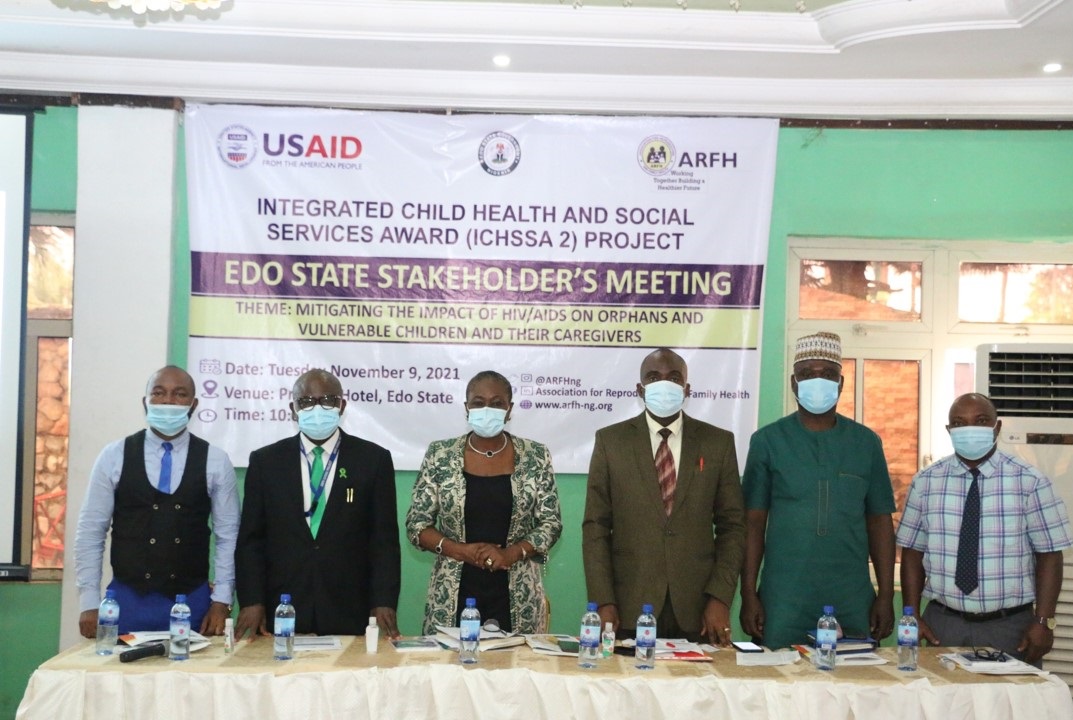 With the recent expansion of ICHSSA-2 project to Edo State, last week the project leadership held a one-day Stakeholder Engagement Meeting with the critical stakeholders including key government officials, partners, and networks for a smooth project take-off and implementation. The project is being implemented in partnership with FHI 360 and Project HOPE with support from United States Agency for International Development (USAID), Ministry of Social Development and Gender Issues (MSDGI) Edo State while working collaboratively with other MDAs. The project aims to mitigate the impact of   HIV/AIDS on Orphans and Vulnerable Children and their families while providing social services to orphans and vulnerable children.
We were joined by the Honourable Commissioner MSDGI Barr. Marie O. Edeko, representatives of Honorable Commissioners of Ministries of Health, Budget and Economic Planning, Education and Police,  Permanent Secretaries, Acting Local Government Chairmen, treatment IP- AHNi, partner Community-Based Organizations including representatives from Edo SACA, Health Insurance Commission, NPC, Medical Directors of Health Facilities, State GBV unit,   NEPWHAN among others.
"This project is a laudable one as it will improve the health and wellbeing of thousands of vulnerable children, adolescents, and caregivers in Edo State," Barr Edeko said.
In Edo, ARFH has a target of reaching over 17000 vulnerable children, adolescents, and their caregivers with quality health and social services. ICHSSA 2 project will partner with AHNi, local Community-Based Organisations, and other Community stakeholders
The project will help increase access of orphans and vulnerable children (OVC) and their households to quality care, protection, and support services; improve the capacity of communities to protect and care for OVC with a specific focus on their rights; improve the capacity of organizational and technical capacity of CSOs and state Governments to offer basic services to OVC and their families and detect and respond to child rights violations and to utilize priority services targeted at specific OVC Sub-population. Said Dr Felix Iwuala, ICHSSA 2 Chief of Party.
The initial thirteen local government areas where ICHSSA-2 project will be implemented with a plan to scale up to the remaining LGAs include Akoko Edo, Egor, Esan Central, Esan North East, Esan West, Esan East, Etsako West, Etsako East, Oredo, Orhionmwon, Ovia South West, Owan West, and Owan East.
ARFH has over the years been partnering with key stakeholders, governments, and donors to improve the health and economic conditions of thousands of vulnerable children and adolescents across Nigeria.
About ARFH is a Non-Governmental and Not-for-Profit Organization established in 1989 by two eminent and reputable Nigerians who are the most prominent advocates of Sexual Reproductive Health (SRH) and Family Planning (FP) programming in Nigeria. With over 30 years of existence, the organization has successfully managed and implemented over 120 innovative reproductive health/development projects across the 36 states and the FCT and other neighbouring countries most of which had gained national recognition and are being replicated nationwide. Please visit www.arfh-ng.org, t/In: @ARFHng, Fb: Association for Reproductive and Family Health