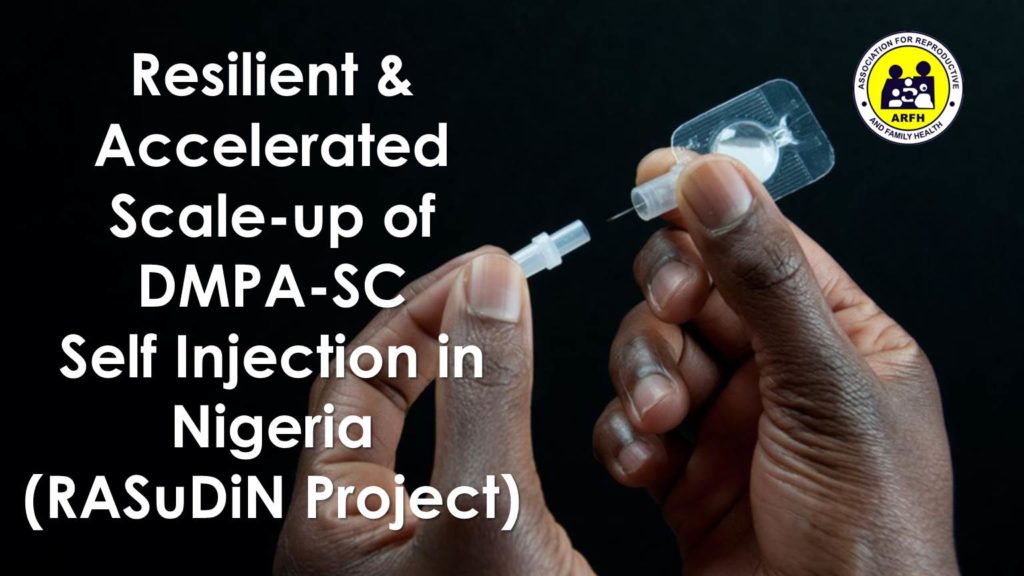 Investing in Family Planning has been identified as a "best buy" in accelerating the achievements of the Sustainable Development Goals (SDGs). The Government of Nigeria updated its commitment at the International Family Planning Summit in London, 2017, to achieve a modern contraceptive rate of 27% among all women of reproductive age by 2020 through working in collaboration with its partners and the private sector. Part of the commitments made is to remove regulatory barriers and scale up access to new contraceptive methods such as the sub-cutaneous DMPA injections and increase the number of health facilities providing family planning services at all levels.
It is against this backdrop that ARFH received funding from the Bill and Melinda Gates Foundation (BMGF) and Children Investment Fund Foundation (CIFF) to implement the Resilient & Accelerated Scale-up of DMPA-SC/Self-Injection in Nigeria (RASuDiN Project). ARFH is the Prime on the grant and is collaborating with the Federal Ministry of Health and the Centre for Communication and Social Impact (CCSI) Nigeria, serving as the Social Behavioural Change Communications (SBCC) partner.
The RASuDiN project aims to reduce maternal and infant morbidity/mortality by presenting opportunities to expand voluntary access to contraceptives and family planning services through introduction and scale up of DMPA-SC injection within a broader contraceptive method mix among women of reproductive age in Nigeria.  The project commenced in August 2018 and is being implemented in 10 states (Lagos, Oyo, Ogun, Enugu, Anambra, Delta, Rivers, Kwara, Niger and Plateau states) for four years.
To ensure an effective roll out of the project, ARFH is working with key government agencies and partners at the national and state levels such as the Federal Ministry of Health (FMOH), States Ministries of Health (SMoH), State Primary Health Care Development Agency (SPHCDA), media, traditional and religious leaders, youths and male community members. The joint stakeholders' inclusion is anticipated to promote maximum support, commitment, active local involvement, improved community-health facility linkages and sustainability of the project.
With successful implementation, it is anticipated that this project will contribute to Nigeria's efforts towards achieving and exceeding its targeted modern contraceptive prevalence rate of 27% by 2020 and a reduction of its undesirable high maternal mortality rate, regulation of its rapid population growth towards achieving the sustainable development goals.