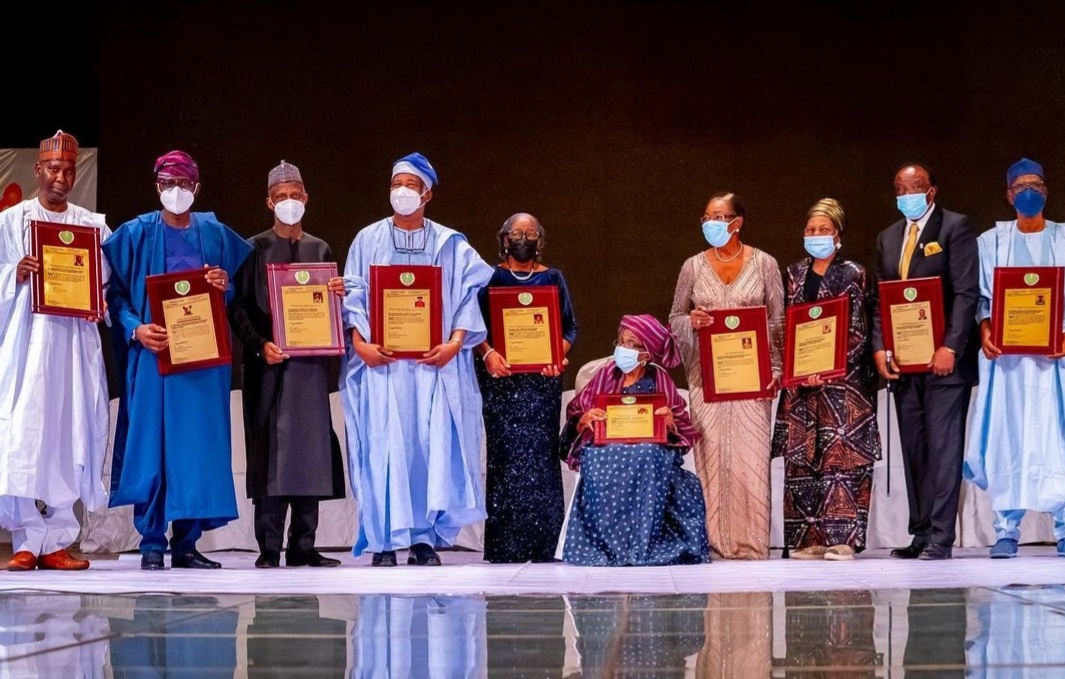 Prof Oladapo Alabi Ladipo 4th left together with other eminent awardees at the event
A world-acclaimed Gynaecologist and Obstetrician, Author, Administrator per excellence and President Emeritus of ARFH, Professor Oladapo Alabi Ladipo received the prestigious 2021 Hallmarks of Labour Role Model Award on Saturday 11th December 2021. The award which was held at Lagos Oriental Hotel had in attendance eminent personalities from all walks of life including former Minister of Health Prof Isaac Adewole and respected members of ARFH Board of Trustees to mark the 25th Anniversary and Role Model Award of Hallmark of Labour Foundation (HLF).
The Hallmark of Labour Role Model Award was awarded to Prof Ladipo due to his outstanding contributions to the field of medicine. Other award recipients include Lagos State Governor- Mr Babajide Sanwo-Olu, Amb. Mohammed Tijani Bande, Dr Sunny Folunso Kuku, Mrs Hairat Balogun, Mrs Stellamarie Awani, Prof Abubakar Adamu Rasheed, and Prof Alias Bogoro.
Previous recipients of the award include late Prof Olikoye Ransome Kuti, Late Prof Oladipo Olujumi Akinkugbe, Chief Femi Falana, late Prof Adetokunbo Lucas, Prof Wole Soyinka, Dr Ngozi Okonjo-Iweala among others.
The Hallmarks of Labour Foundation was founded in 1996 as a Non-governmental Organisation aimed at identifying Nigerians, Africans, and people of the Black race who have achieved success through hard work, honesty, and integrity in their field of endeavor.
Gbagegesin Alawode
Knowledge Management and Communications