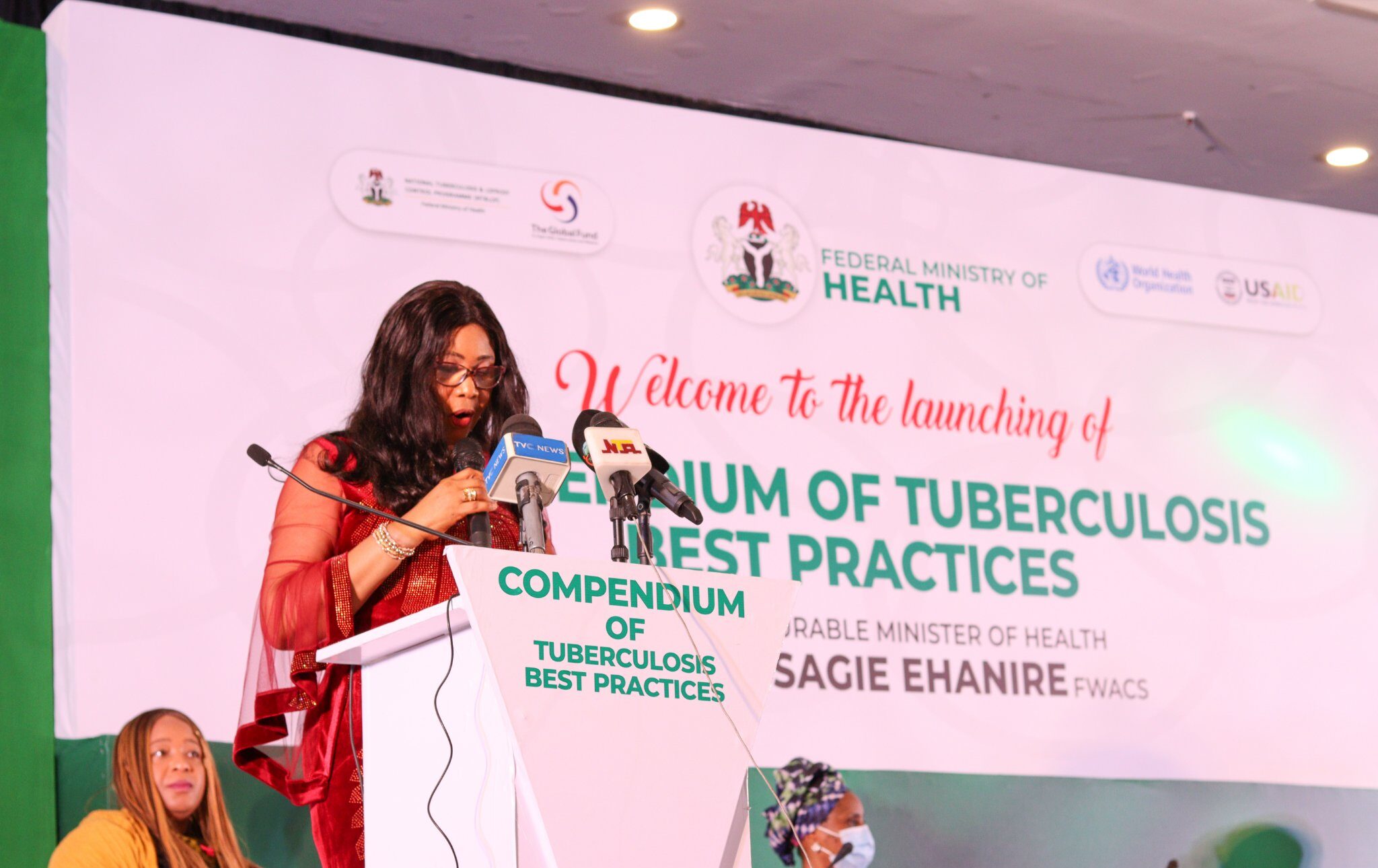 Friday June 3, 2022: The National Tuberculosis, Leprosy and Buruli ulcer Control Programme (NTBLCP), a unit in the department of Public Health, Federal Ministry of Health Nigeria is saddled with the mandate of controlling Tuberculosis, Buruli ulcer and Leprosy in Nigeria. The National TB Control Program aims to reduce mortality and incidence of tuberculosis in the country, reduce catastrophic costs and provide patient-responsive health services.
The launching of the National Tuberculosis, Leprosy and Buruli Ulcer Control Programmes (NTBLCP) compendium of best practices took place yesterday at Ladi Kwali Hall, Sheraton Hotel with the attendance of The First Lady Mrs. Aisha Buhari ably represented by the Hon. Minister of Health Dr. Osagie Ehanire FWACS, Hon. Minister of State for Health Dr.(Sen) Adeleke Olorunnimbe Mamora, Governor of Kano State ably represented by the Hon. Commissioner of Health Kano State Dr. Aminu Ibrahim Tsanyawa, Senate Committee Chairman on Aids, TB and Leprosy, Director of Public Health FMOH Dr. Morenike Alex-Okoh, Director and National Coordinator of NTBLCP Dr. Anyaike Chukwuma, Representatives of WHO, USAID, Global Fund, ARFH, APIN, FMOE, FMARD, International Supporters and Partners.
While speaking, the representative of WHO reinstated the need for evidence-based intervention and their support to end TB epidemic in Nigeria. USAID representative also reassured stakeholders of supporting the prevention of TB, cure of TB, case notification, closing of gap and becoming a TB-free country in the next 5 years. – "TB IS CURABLE".
The Honorable Minister of Health who unveiled the NTBLCP's Compendium in his speech commended various stakeholders, organizations and international partners in curbing and bringing TB to an end. He said, "THERE IS NO SHAME IN BEING DIAGNOSED AND CURED OF TB".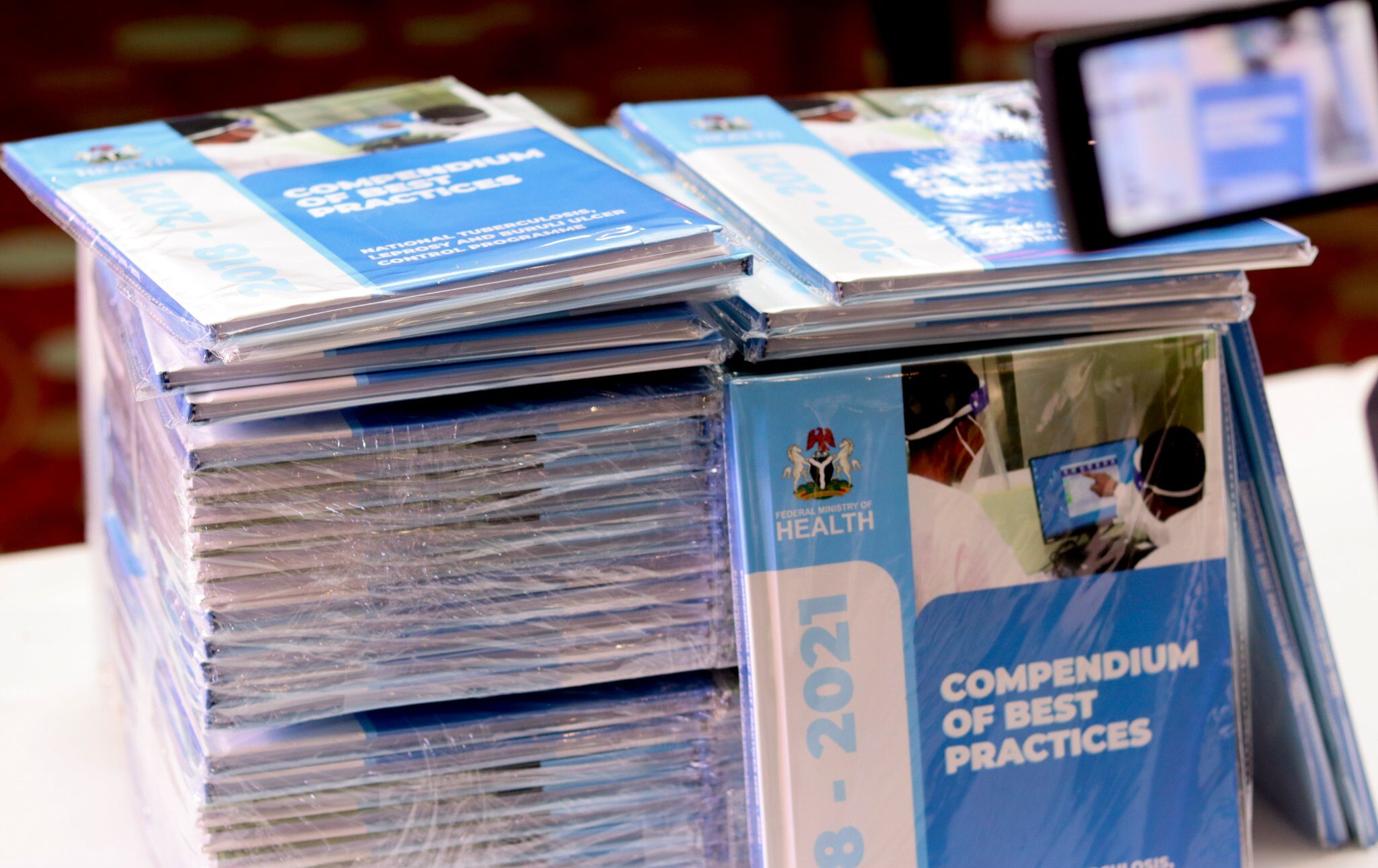 The Director and National Coordinator of the NTBLCP also acknowledged the contributions of all stakeholders to the gains made in the fight against TB in Nigeria.
Goodwill message by the Acting Board Chair Stop TB Partnership Nigeria Dr. Queen Ogbuji-Ladipo also reassured the stakeholders and partners of continued support and collaboration with the National TB Program in order to increase local resource mobilization through high-level advocacy to successfully bring TB to an end come 2030.
ARFH being an SR to NTBLCP has relentlessly supported the various programs through her strategic Active TB case finding in 12 states and community management of Drug-Resistant TB patients in 35 states plus FCT. It is worthy of note that in 2021 through the Active Case Finding in 12 states a contribution of 41,700 positive cases from 426,534 identified presumptive TB cases was notified through the community intervention.
ARFH Program Coordinator/Global Fund TB Grant Dr. Queen Ogbuji-Ladipo and Dr. Adewale Osho (ARFH TB Program Manager) represented ARFH at the event.