In furtherance of the Federal Government efforts to reduce the incidence of cervical and other HPV-related cancers in Nigeria, experts have stressed the importance of early screening for the Human papillomavirus (HPV) and the role of HPV vaccine in preventing cervical cancer among women globally.
According to experts, the HPV vaccine protects against genital warts and most cases of cervical cancer. It protects against cancer of the vagina, vulva, penis or anus caused by HPV. The HPV vaccine also protects against mouth, throat, head and neck cancers caused by HPV.
The experts spoke on Tuesday at the webinar held by the Association for Reproductive and Family Health (ARFH) and titled, "Collaborative Efforts Towards HPV Infection Prevention in Nigeria."
Lamenting that "Every two minutes, a woman dies of cervical cancer," one of the experts who spoke at the webinar, a Senior Clinical Research Officer in the Department of Obstetrics and Gynaecology, University of Cape Town, South Africa, Dr Rakiya Saidu, says cervical cancer is a global health issue that affects women from all walks of life, regardless of age, background, or geography. "Each year, thousands of lives are touched by this disease," she said.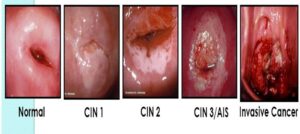 Dr. Saidu said that cervical cancer is one of the most preventable and treatable forms of cancer when detected early, noting that understanding the connection between HPV and cervical cancer is not merely a medical matter. "It's a matter of life, death, and women's well-being,"
She said. She said there were different types of HPV but that "Some types (low-risk types) can cause warts on the skin or genital warts, which are not cancer;" adding that concern arises when we encounter high-risk HPV types.
"These high-risk types have been linked to various cancers, including cervical cancer," Dr. Saidu said. HPV transmission Dr. Saidu said, "HPV is primarily spread through skin-to-skin contact, particularly through sexual activity;" and that "it is one of the most common sexually transmitted infections globally."
While warning that most sexually active individuals will acquire at least one type of HPV during their lifetime, she added, "This high prevalence emphasizes the importance of understanding HPV and its potential consequences."
She noted that the risk of oncogenic (cancerous) HPV infection is high right after the first sexual intercourse and continues throughout a woman's sexually active lifetime, hence the need to be aware and to do all that is possible to avoid contracting the infection.
Symptoms of cervical cancer
None in early stage.
Can only be picked by screening
Vaginal bleeding: in between periods, after sex
Offensive vaginal discharge
Pain in the lower abdomen
Pain during sex
Lower back pain
Leg pain and swelling
Why HPV vaccine?
According to the Chief Regulatory Officer, Vaccines, Biologics and Medical Devices in the Laboratory Services Directorate (VBM-LSD) at NAFDAC, Mr. Akintunde Abdul-Rasaq Akapo, cervical cancer is a major public health problem in Africa, where it is the leading cause of cancer death among women.
Quoting some statistics by the World Health Organisation (WHO), Akapo said, "Nigeria, the most populous country in Africa, has one of the highest cervical cancer incidence and mortality rates in the continent, with an estimated 15,000 new cases and 10,000 deaths annually."
He stated that Gardasil is a vaccine that protects against human papillomavirus (HPV), a common sexually transmitted infection that can cause cervical, vaginal, vulvar, and other cancers. Gardasil has been granted registration approval by NAFDAC, and it is safe for use among humans.
Shedding more light on the efficacy and safety of the vaccine, the NAFDAC official said, "Gardasil is a quadrivalent vaccine composed of HPV serotypes 6, 11, 16 and 18.
The global strategy to eliminate cervical cancer proposes

"Gardasil is recommended for girls and boys aged 9–13 years as a two-dose schedule (six months apart). From age 14 to as late as 26 years, a three-dose schedule should be given (at 0, 1–2 and 4–6 months).
"It has been established that a one dose regime of Gardasil provides 95% protection against the virus and ensures protection against the common HPV serotypes causing cervical cancer."
HPV vaccine safe
Assuring of its safety, Mr. Akapo said, "The Gardasil Vaccine has demonstrated safety and efficacy in the laboratory prior to its release and we assure the public of its safety for use."
In his submission, Chief Medical Officer with the National Primary Healthcare Development Agency, Dr. Rufai Garba, said Nigeria is introducing HPV vaccination using Gardasil 4vHPV, which has a longer duration of protection (>10 years).
The vaccine also provides cross protection for other types of Human papillomaviruses beyond types 16 and 18 that cause cervical cancer. He warned that It usually takes 15 to 20 years for cervical cancer to develop, but it can take as short as 5-10 years in women with weakened immune systems such as those with untreated HIV infection, who are six times more likely to develop cervical cancer.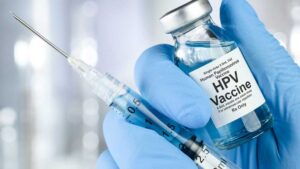 Systematic rollout of HPV vaccine
Dr. Garba said that due to a global shortage, the rollout of the HPV vaccine in Nigeria is phased to ensure equitable access across the 36+1 states.
"Fifteen states and the FCT were billed to introduce the vaccine in 2023, while the remaining 21 states will introduce it in early 2024," Dr. Garba said.
The criteria for phasing included:
level of risk to cervical cancer disease
cold chain capacity sufficiency
penta3 coverage
Dr. Garba added, "There are an estimated 17,106,577 girls within the ages of 9-14 years targeted during the HPV vaccine introduction, and the HPV vaccine will be integrated into the country's routine immunisation schedule and will be available in all government health facilities for girls aged 9-14 years."
Partner support
Emphasising the role of partner support in the rollout of HPV vaccine in Nigeria, Public health physician, epidemiologist, and seasoned program manager, Dr. Hadley Ikwe, stated the vaccine donation support from MSD (Merck), noting that "About six million doses of the HPV vaccines were donated to the Government of Nigeria."
He enjoined a collective and collaborative effort for HPV infection prevention in Nigeria.
In his own submission, public health professional, Dr. Fauzudeen Kehinde Akewusola, stressed the capacity of ARFH to initiate, promote, and implement in partnership with other organizations, developmental, HIV &TB, SRH, and family planning programs.
He disclosed ARFH's giant strides in providing interventions for young people and adults through capacity building, technical assistance, operations research, and evaluation to improve the quality of life in Nigeria and elsewhere in Africa.
Stressing the ARFH's readiness to partner with stakeholders in making the HPV vaccine a success story in Nigeria, Dr. Akewusola said, "The cervical cancer prevention portfolio is the thematic area assigned to ARFH on the ACE-4 project (a USAID-funded HIV Project with CCCRN as the prime) and ARFH staff work collaboratively with other technical teams in the consortium to deliver CECAP activities.
"ARFH has been instrumental in raising awareness about cervical cancer prevention and the risk factors. ARFH uses the 'screen-and-treat approach' in which the treatment decision is based on a screening test and treatment is provided soon or immediately after positive screening test.
"The organization has trained 25 healthcare workers across Niger and Kwara states to perform visual inspection with acetic acid."
In addition to prevention, ARFH also plays a role in the treatment and support of women screened positive for cervical precancerous lesions by providing thermal ablation machines supplied by USAID (8 facilities in Kwara and 15 facilities in Niger) for treatment.
Currently, ARFH is conducting research on knowledge, risk perception, practice, and barriers to cervical cancer vaccination and screening among women of reproductive age in North Central States.